KALIMAT VERBAL
I went to Jakarta last month.
           Aku pergi ke Jakarta bulan yang lalu.
Intan wrote a letter to me two weeks ago.
           Intan menulis surat untukku dua minggu yang lalu.
They played basketball yesterday.
           Mereka bermain bola basket kemarin.
They won basketball competition last year.
           Mereka menang dalam kompetisi bola basket tahun lalu.
Aura sang September Ceria song this morning.
           Aura menyanyi lagu September ceria tadi pagi.
Dika bought a novel in Japan last autumn.
           Dika membeli sebuah novel di Jepan musim gugur yang lalu.
We didn't forget to buy handicrafts in Bali.
           Kami tidak lupa untuk membeli kerajinan tangan di Bali.
We went to Bali last holiday.
           Kami pergi ke Bali liburan kemarin.
He put the ball on the dirty floor.
           Dia meletakkan bola diatas lantai kotor.
We swept the floor this morning.
           Kami menyapu lantai pagi ini.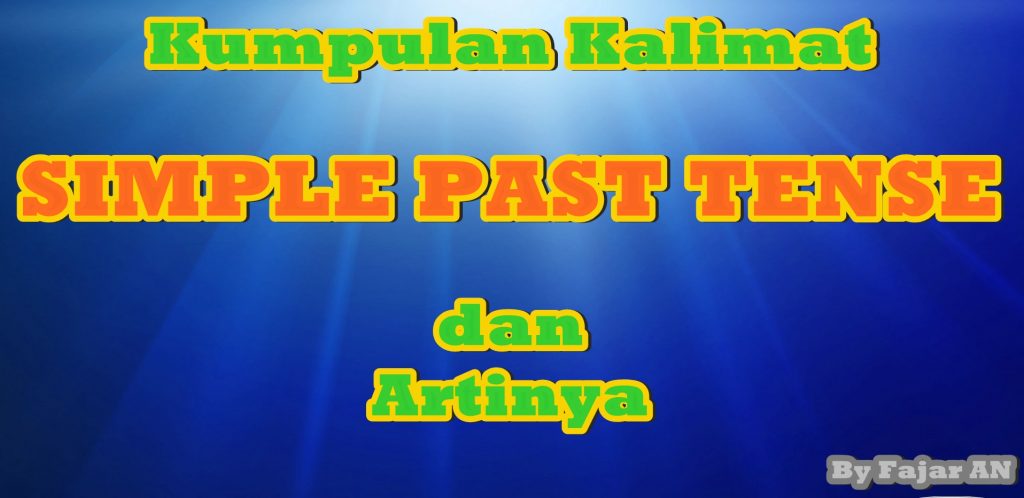 Rina slept on the sofa last night.
           Rina tidur di sofa tadi malam.
Fani cut the rope with her knife.
           Fani memotong tali dengan pisaunya.
My mother looked after my neighbor's son yesterday.
           Ibuku merawat anak laki-laki tetanggaku kemarin.
Did my mother call me yesterday?
           Apakah ibuku memanggilku kemarin?
Lisa did not buy new bicycle.
           Lisa tidak membeli sepedah baru.
Did you love me?
           Apakah kamu mencintaiku?
Tania loved Randi last week.
           Tania mencintai Randi minggu lalu.
Rezki told to me a story about Cinderella softly last night.
           Rezki berceria kepadaku tentang Cinderella dengan lembut tadi malam.
Did you make a cake?
           Apakah kamu membuat kue?
You did not make a cake.
           Kamu tidak membuat kue.
KALIMAT NOMINAL
I was busy yesterday.
           Saya sibuk kemarin.
You were happy because of me last week.
           Kamu bahagia karena aku minggu lalu.
You were sad this morning.
           Kamu sedih pagi ini.
Santi was not happy last Saturday night.
           Santi tidak bahagia malam minggu yang lalu.
Was Santi happy last Saturday night?
           Apakah santi bahagia malam minggu yang lalu?
We were in the post office two weeks ago.
           Kami di kantor pos dua minggu yang lalu.
Revan was angry with Santi yesterday.
           Revan marah dengan Santi kemarin.
Bobi and Riko were sleepy this morning.
           Bobi dan Riko mengantuk tadi pagi.
I was late to go to your party yesterday.
           Aku terlambat pergi ke pestamu kemarin.
We were lazy to go to school last Monday.
           Kami malas pergi kesekolah Senin yang lalu.
This room was very dirty this morning.
           Ruangan ini sangat kotor tadi pagi.
My cat was fat.
           Kucingku gemuk.
Was my handphone expensive?
           Apakah HP ku mahal?
My laptop was the newest one last years.
           Laptopku adalah laptop terbaru tahun lalu.
Nana was not dizzy.
           Nana tidak sakit.
Veriska and Nando were not in the class.
           Verika dan Nando tidak ada di kelas.
The black board was on the second grade wall aweeks ago.
           Papan tulis ada di dinding kelas dua seminggu yang lalu.
The black wallet was cheap yesterday.
           Dompet hitamku harganya murah kemarin.
Was Lisa lazy girl?
           Apakah Lisa gadis yang pemalas?
Was my room dirty because of you yesterday?
           Apakah ruanganku menjadi kotor karenamu kemarin?