Definition of Invitation Card
(definisi Kartu Undangan)
An invitation card is used to invite someone to attend an event, like birthday party, wedding ceremony, baby shower, etc. (Invitation card digunakan untuk mengundang seseorang untuk menghadiri suatu acara, seperti pesta ulang tahun, upacara pernikahan, menyambut kelahiran bayi, dan lain-lain.)
Some expressions commonly used in invitation cards
(beberapa ungkapan yang sering muncul dalam invitation cards)
You are invited to …
… Cordially invites you to …
Come and share our wedding …
Come and share the joy …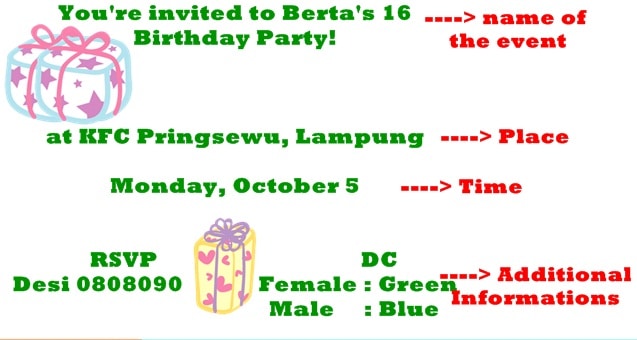 An invitation cards should give information about :
(sebuah invitation cards harus memberikan informasi tentang)
The name of the event (nama acara)
When the event will be held (Waktu acara akan diadakan)
Where the event will take place (Dimana acara akan diadakan)
Additional information (Informasi tambahan), such as :
# Dress code (Kode kostum). Kode kostum tergantung dari pengundang, bisa jadi kode kostumnya wanita memakai kebaya dan laki-laki memakai jas, dan lain sebagainya.
# R.S.V.P (Repondez s'il vous plait) or you have to reply to the invitation. Maksudnya adalah untuk konfirmasi kepada pengundang perihal yang di undang bisa atau dapat hadir atau tidak.
Kinds of invitation cards are for :
(Jenis invitation cards)
---

Etc