Simple Present Tense
Alisa : are you sick? You look so pale!
Apakah kamu sakit? Kamu terlihat pucat sekali.
Vika : no, I am not. But I am so hungry.
Tidak. Tetapi aku sangat lapar.
Alisa : do you have money?
Apakah kamu membawa uang?
Vika  : yes, I am. But I think my money is not enough to but meat ball.
Ya, tapi kupikir uangku tak cukup untuk membeli bakso.
Alisa : it is my money. You can use it.
Ini uangku. Kamu bisa memakainya.
Vika : Thanks Al.
Terimakasih Al.
Alisa : Don't mention it.
Sama-sama.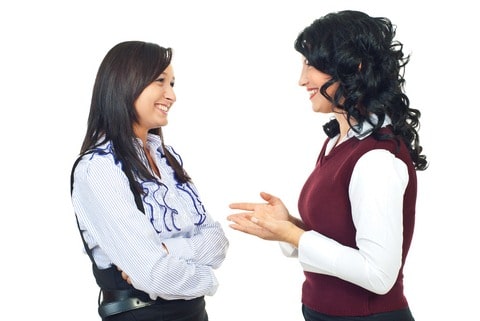 Simple Past Tense
Lita   : what did you do last night?
Apakah yang kamu lakukan tadi malam?
Nana : I did my homework.
Aku mengerjakan PR ku.
Lita   : It was difficult. I did not do my homework.
Itu sulit, aku tidak mengerjakan PR ku.
Nana           : My brother helped me to do it.
Kakakku membantuku untuk mengerjakannya.
Lita   : by the way, did you watch Snoopy cartoon yesterday afternoon?
Ngomong-ngomong, apakah kamu menonton kartun Snoopy kemarin siang?
Nana : no, I did not. I cooked with my mom yesterday afternoon.
Tidak, aku masak dengan ibuku kemarin siang.
Lita   : oh… Okay, I will go now. Bye
Oh…. OK! Aku harus pergi sekarang. Selamat tinggal.
Nana : bye..
Selamat tinggal
Simple Present Tense dan Simple Past Tense
Tari   : I saw you in the Gajah Mada street last week. What did you do?
Aku melihatmu di jalan Gajah Mada minggu lalu, apa yang sedang kamu lakukan?
Sita   : I waited my sister.
Aku menunggu saudara perempuanku.
Tari   : then?
Lalu?
Sita   : we went to bookstore to buy novel, then we went to restaurant to eat.
Kami pergi ke toko buku untuk membeli novel, selanjutnya kami pergi ke restoran untuk makan.
Tari   : where is your sister now?
Dimana saudara perempuanmu sekarang?
Sita   : she always go to the market every Sunday, so she still in the market now.
Dia selalu pergi kepasar setiap hari minggu, jadi sekarang dia masih dipasar.
Tari   : what does she do there?
Apa yang dia lakukan disana?
Sita   : she helps her uncle to sell clothes.
Dia membantu pamannya menjual pakaian.
Tari   : clothes?
Pakaian?
Sita   : yes, it is. My uncle has a shop in Jendral Sudirman street, you can buy some clothes there.
Ya, pamanku punya toko di Jalan Jendral Sudirman, kamu bisa beli beberapa pakaian disana.
Tari   : next time I will try!
Lain kali aku akan mencobanya.
Sita   : any way, today you look so beautiful with your dress.
Ngomong-ngomong, hari ini kamu kelihatan cantik dengan gaun putihmu ini.
Tari   : thanks Sita. I bought it yesterday.
Terimakasit Sita. Aku membelinya kemarin.
Sita   : where did you buy it?
Dimana kamu memebelinya?
Tari   : in the shop beside my new home. Sempurna shop is the name of its shop.
Ditoko sebelah rumah baruku. Toko Sempurna namanya.
Sita   : really?? Are you sure??
Benarkah? Apakah kamu yakin?
Tari   : of course. What's wrong?
Tentu saja. Apa yang salah?
Sita   : nothing. Is it in Palapa street?
Tidak ada sih. Apa itu di jalan palapa?
Tari   : you are right!
Ya, kamu benar!
Sita   : that's my uncle's shop! My uncle has three shops, in the market, in Jendral Sudirman street and Palapa street. His shop's name is Sempurna.
Itu toko pamanku! Pamanku punya tiga toko, dipasar, di jalan Jendral Sudirman dan di jalan Palapa. Nama tokonya adalah Sempurna.
Tari   : Waw! I often to buy there. So your uncle is Mr. Jack?
Waw! Aku sering beli disana. Jadi, pamanmu adalah pak Jack?
Sita   : correct!
Benar sekali!
Tari   : Nice to hear that. Anyway, I must leave you now. My mom asks me to go home earlier today.
Senang mendengarnya. Ngomong-ngomong, aku harus meninggalkanmu sekarang. Ibuku memintaku pulang cepat hari ini.
Sita   : it's okay. See you
Okay, sampai ketemu lagi
Tari   : see you
Sampai ketemu lagi